We've recently seen a demand for our Total Risk Manager (TRM) solution to levels that require internal expansion. In response, we are happy to have appointed dedicated sales leads, including new head of sales Josh Mitchell.
Our TRM software is a comprehensive suite of risk management modules designed to help organisations manage their risk, asset, or compliance requirements from a single, central platform.
It allows users to access features including a risk register, planned maintenance schedule, compliance checks, policy management, supply chain and contracts and agreements, as well as job-specific resources. Joining Josh in the dedicated sales leads team is Chris Monk, who joins as sales executive, and Will Toplass, who joins as sales engineer.
Josh joins our team with more than five years of experience in the education technology sector, which is one of our key markets along with healthcare, public, and private. His understanding of compliance, maintenance, and health and safety products will help us in adapting our TRM software to address customer pain points both immediately and into the future as regulations change.
Matching values
He said: "I am extremely excited to have joined Sypro and believe my own values really match those of the company. I have always been driven by conquering challenges and seeing results, which is exactly what Sypro's software solutions are made to achieve. Working with end-users to make their lives easier through the Total Risk Manager software is even more rewarding when you know it helps them to continue achieving amazing things in their respective field of expertise.
"I truly believe in Sypro's TRM software and know that eliminating complications around transparency and compliance will be something many businesses are currently unaware they are able to use TRM for but will not look back once they do."
Josh's appointment will play an important role in the development of TRM as he is tasked with the responsibility of sales, which will entail the responsibility of feeding back to the product development team. Operating in a customer facing role, Josh will gain vital customer insight and then influence the product development in a way that fulfils customer desires – particularly as it grows into new markets.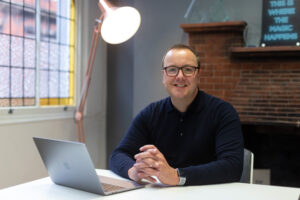 His experience in demonstrating software as a solution particularly interested our chief executive, Simon Hunt. He said: "Josh joins us at a really exciting time as we are seeing increasing demand in our services and growing our team, and we're thrilled to have him on board. His experience in the education sector is particularly valuable to us and we're looking forward to seeing the different perspectives he brings with him.
"Total Risk Manager is being used by a number of major organisations and the value of their work continues to rise, consequently meaning that the importance of our software also grows. This is something that we were prepared for and have formed a team of young, ambitious and talented technology experts to stay ahead of the curve."
Our Contract Manager software – which is used on some of the UK's biggest construction projects – is widely recognised for offering complete compliance, collaborative working and risk mitigation, but our innovative TRM is now being seen as equally important software across multiple sectors.